CURSING WORDPRESS FOREVER NOW. I had a completed blog it just ate for no reason but because it decided to erase it all.  I am so pissed off now. It was stellar and witty etc. etc that blog post (okay boring but still I worked hard to be clever ha). Grumble grumble grumble. (Update: I just found it in history but now I am mad and am just going to post as is as it tried to erase this one too). Maybe I should do all my blog posts like this!
Recap: Good weather for two days, bad weather is coming with cold weather and more rain, Tate is lame, Remus is fat, doesn't come up to barn so I can work him, I don't want to walk through mud over my kneees to get him, it needs to dry up., mud insane, big asses on both horses. There. DONE. I am not writing that shit out again. OMG. SO irritated.
You can see the images and gifs anyway. GRHHHHHH Enjoy!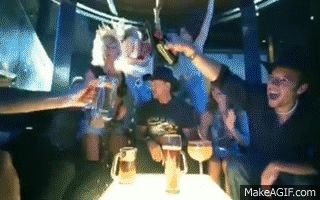 Who else is ready for the weekend (on a Monday no less)? Just me? I will be over here drinking and having a tantrum….sigh. It just tried to do the same thing with this rewritten post but I was smart and cut and pasted elsewhere.