Remus was perfect in our Sunday lesson. It was warmer (in the 60s) but the wind was brisk and the sun was behind clouds most of the lesson so it was comfy enough. He still has a lot of hair and is not shedding yet so I think he knows something I don't. He has all sorts of new growth hair on his mane and his bridle path has grown an inch since I clipped it  maybe 3 weeks ago? So I think our cold days are not behind us.
We have had torrential rain since Sunday morning (and bad storms) when I rode. But for my lesson, the ring was actually a teensy bit dusty (first time since last fall I kid you not).  But for our purposes it was perfect. We warmed up (we were in lesson with mares and Remus, he thought he was big stud on campus) and then started our lesson. The two mares in the lesson with me were a nice taller (warmblood or tbred cross I am not sure) mare and then a pocket rocket QH mare.
Both jump a lot higher than me. But they started out low too as they are both getting back to more jumping after a winter off mostly so it was a good group. We did some cross rails then the instructor blew my mind by lining up a mini course. The other two did about eight jumps. She saw my look and cut it down to four jumps. There was only one cross rail the rest were small verticals and we all know how much I hate that. (My back was also bothering me so I was riding stiffer than normal so let's just say we had to really reinvent the wheel a bit with some of my riding).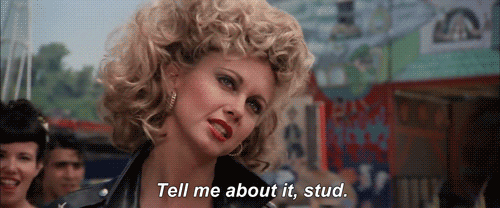 Remus was a star though. We did the last four jumps (after miffing it a few times before thanks to ME) and he totally nailed each one perfect and I actually didn't mess him up so we quit there. We did watch the larger mare and the pocket rocket also jump and that was fun as each of them jump so differently than Remus it helps me realize everyone has their own issues (though both those mares could jump to the moon I think)!
Takeaways: I need to stop worrying about what is coming up and just jump. Remus is going to get us over pretty much no matter and I have to stop FREEZING UP. Also I rode without spurs and had a very responsive horse even without spurs so we must be getting better, right? Even though we are not jumping big things we are jumping a lot more than I have jumped since I got Remus I think. (I mean the most I jumped in DE was when I went cross country schooling with Sally which was only like every once in a while or if I showed).  So I have to give myself a break and start believing he can do it and we will do it. Man, I need therapy. (And as my sometimes salty instructor said, that is what you are paying me for, therapy.) HA! I have a lesson scheduled this Friday and am trying to do a make up lesson this weekend so two times in like the same amount of days…..blasphemy right!?
Our weather has been a crazy roller coaster ride here where I live for a while now as I keep posting. But now I feel for anyone in and around Nashville who had those horrendous tornadoes on Monday evening. We had some bad storms on Sunday night and again last night but luckily tornado activity was not around the Memphis area. So scary the photos and the loss of life. So yes our weather is drunk but not as bad as it was in Nashville.  I think Nashville is usually thought of as less of a tornado alley than we are so it is really an odd late winter/early spring around Tennessee.
Speaking of drunk weather, the Mississippi River is not far from us. We drove down to look at the river in the side by side with Ollie on Sunday (Before we had all the rain). Usually we can only see a spec of it glinting through the far trees. Umm nope that field is now the river. That is a shitload of water!! Where the purple area points at the line of trees?? Yes the river banks are behind those trees. Well they were there once…. CRAZY! Luckily we live way up high on the bluff. But sheesh this is insane….I want to go see what it looks like today after all the rain last night. This field is about a mile from our house down the hill (And the river is usually a few miles away!). We are not in a flood plain and are safe from this but still. It is pretty radical to see this….when the last time you went there it was a field and you could not see the river! And now this. Boggles the mind.
And looking toward the near future with Remus: There is a barn show coming up and a clinic in the next couple weeks (UGH pray no rain). I signed up for the clinic at least and if some kid doesn't want to ride Remus I will probably sign up for the barn show too. And then the spring schooling local hunter show is at the end of the month. And they asked if I wanted to go and I said no. I did offer Remus to the barn owner's kid who rides him and then they said if she takes him I should come and lesson at the show grounds. So that sounds exciting right? Things are happening people! What exciting things are you planning now that Spring is almost within touching distance (sure it's March but humor me)?