Okay no dashing was done obviously (because Remus, remember?). I had a lesson with Emily on Wednesday and it was great to see her. She actually backed her baby warmblood Champ (if you don't follow her on instagram@emilydonaldsondressage you should!) and she was all happy how good he was!!
You Are a MEAN ONE, Mr. Grinch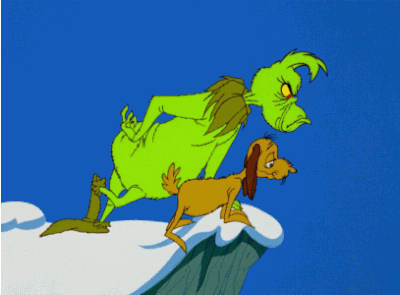 It actually was a good lesson. But Remus was a bit Grinchy to say the least. He was leaning on my inside hand like no one's business. My shoulder was aching, my whole arm hurt. So after working on some trot work we started putting his head to the wall and counterflexing him to the outside to get him off my damn arm and then move his hind end toward the inside track. WHOHOO He got mad. Emily had to help us by walking besides us a bit. But hey it worked, he stopped leaning and starting carrying himself. So YAY US? I was sweating by then (it was in the 40's and I think I overdressed because I was freezing at the barn!).
Run Run Rudolph
And then we worked on getting MORE TROT. Oh my god my glutes, my abs, my thighs are killing me. Remus made me work. We did two strides where I made him move forward then I could relax for a few strides then I had to do it again. He had to move forward. And he did. But omg I am so damn tired. Run Run REMUS PLEASE. Never going to happen is it? But we keep trying!
Oh Come All Ye Faithful
And then we started the canter work. Mind you I was already beat up feeling by then. And of course as I asked Remus the first time he got shitty and went above the bit and was rude as F. SO we walked him and made him behave like a grown up horse and try again to trot. He was better then and I still had to work the counterflexing to keep him from leaning on my inside hand. There were a lot of things going on and I don't think I did any of them that well LOL.
But we got the canter going and the first time going into it was not great but he went into it. One departure he did a nasty buck and jarred my back. GRHHH we got him back to the trot and managed to get him back into it with no real buck and once he was in it we settled into it pretty well. He is getting there, he just is such a jerk at times! But we finished up with going the other way and he definitely was better. I am going to get Emily to ride him some in the New Year just to get him CANTERING again. My back just can't handle the jarring lately. She is eager to do it (#shemightbeinsane!). He is such a nerd though because in the jump ring, he is a bit slow to canter but no bucks no shenighans. I think he knows he has to work harder in the dressage lesson so he tries to be a rebel!
So we continued to work on the trot some more and what do you know, no lean, no heavy, and he was more engaged and moving from behind. And then we collapsed and we were done! Whew. He definitely is carrying himself in a frame about 80-90 percent of the time now which I really didn't realize till the lesson. Like wow, Remus is almost a real boy. ALMOST. So close!
We have a lot to work on and Remus was huffing and puffing when we were done (So was I to be truthful) but it was a great lesson. Great timing right before the holidays!!
I am heading to Dad's either Friday or Saturday (depending on when I get my #xmasshit done! OMG SO MUCH STILL TO DO). So no horsey stuff down in VA. 😦 Merry Christmas to all (Or Happy Holidays etc. etc). Have a great holiday all!