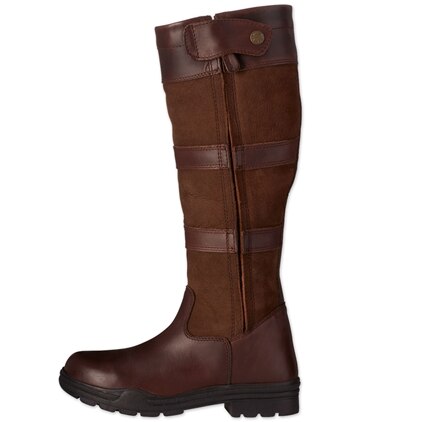 Can you believe I never owned a pair of casual boots before? Besides my purple muck boots and of course my paddock boots and riding boots. Nope. I thought it was a trend and it was nuts to pay for boots you don't really ride in but then my feet are ALWAYS COLD. So on Black Friday when these Shire Broadway boots went on sale on Smartpak I decided to give them a whirl.
Now the reason I bought this brand and type is A) they were affordable B) they came in my size and C) they came in wide calf (Oh and I mentioned they were on sale!). My calves are HUGE. And I had to order wide Ariats for riding boots. These do have a zipper which I wasn't sure I liked at first but now I like it. They are definitely wider but I like that I can wear multiple layers in there so I am fine with a bit of a gap at the top.
They sat on my spare bed for over 3 weeks before I finally wore them this week. I was hemming and hawing about sending them back (Cause remember I thought they were trendy SMH). I tried them on when I got them but didnt think they were for me. But I didn't send them back. So earlier this week, when I was FREEZING I thought let's just give them a trial in the house.
So after managing to get my feet in them and zipping them up I walked around the house in them. And my feet were warm. INSTANTLY. And I was freezing all day and my feet were never cold. NOT once. Which is unheard of. Also they seem much more comfy now that I am breaking them in.
But ohhhh heavenly warm and happy feet. Where have you been all my life? SO needless to say they are on my feet right now and I am not sending them back. I will have to do a long term review (as I am not sure how long they will last, how the zipper will hold up etc) but I like (NO, I LOVE THEM). I got them in size 9 and they run true to size and I even have heavier socks on in them. I worried about my heel spur in them but there seems to be decent support and a decent heel so as long as I don't walk too far I think I am okay.
Why am I always so late to the game?? I know there are nicer ones out there but I wanted to dip my toe in so to speak moneywise before jumping in for boots that were higher priced. I just can't believe I didn't do this sooner. What a dufus I am! Anyone else late to the game?? Seriously! I am embarrassed to post this! LOL
I think I may squeeze one more blog post in before New Year's Day but until then stay warm and mind the gap (bit of British humor since Hubby is back from UK). Meanwhile I am heading to a lesson with Emily today (OMG so cold). I figure if she can sit in the arena and teach me I can ride at least. AND this is totally Tanya's fault since she rides right before me and she peer pressured me. Thanks Tanya! (With friends like that who needs ENEMIES HA!) Plus this will give me the excuse not to ride this weekend when it will be even more subarctic! Method to my madness! Happy New Year's weekend to you all!