We are really still loving all the wildlife we see here. The hawk above we saw several times this weekend. He is a different hawk than the one  I saw on my fence a few weeks ago. SO MUCH WILDLIFE :). We also have something that is knocking my bird feeders down again (after a 3 week reprieve for some odd reason) but this is stronger than a raccoon. It actually bent the anchor in the ground for the pole. Either it's a bear LOL or it is a raccoon on steroids??
We already knew the weekend might be a bust, weather wise. They called for rain all weekend but cooler temps. We got the cooler temps and some rain on Sat but it was saving itself for Sunday when the skies opened up and we were deluged all day long. I ended up leaving the horses up for part of the day it was that bad.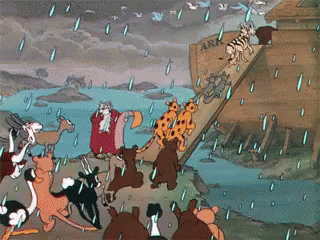 The paddock has a tendency to hold water and I hate for them to have to trudge through it and back into the stalls as they tend to bring all the mud and muck with them when they do and the stalls get soaked. UGH. I cleaned the stalls like four times yesterday but refused to put more shavings or pellets in till it stopped FREAKING Raining for a few minutes.
This morning it is misty and wet but not pouring. So I tossed the kids out to eat their grain and hay and proceeded to do the stalls. Two wheelbarrows later (I usually only get one wheelbarrow and that is from cleaning the stalls off and on all day) and they had fresh pellets down with shavings on top. I know it will be a mess by midday but it was just so wet out. They seemed happy to get into the stalls and munch on hay.
It was 70 out on Sunday and 60's on Saturday so it definitely cooled off (Saturday am it was 35 degrees cooler than it was when we went to bed Friday night!!). Today will be in the 80's and you can feel the humidity but it is not bad out. But it is supposed to rain the next three days. Sigh. All or nothing. It is either crunchy grass or sopping wet mud and grass. I am going to have to haul out somewhere to throw a leg over Remus. There is no way I can even hack out in this mess.
Remus decided today I was being cruel and unusual making him eat out in the muddy paddock so he proceeded to the back of the barn to hang his head over the stall guard to raise his usual objections (See if you can see Tate behind him waiting too). He is very polite about it but he was ready for getting into his stall again with his hay. I do not have a very mud-worthy horse (though he is a star for getting mud all over him, he just prefers not to be rained on). Tate could care less and stands out in the rain if he can.
So my question today is what do you do to keep your paddocks from swamping? There is water outside both stalls (I need to get the gutters looked at before winter too). I have leveled the ground with my front end loader but I think I need to put a base down and then some fill dirt to level the ground and make it slope down the opposite way rather than just milling about.  I am not sure IF I can do it or if I need professional help. The field is a mess too but it seems to slope the right way and drain better out there.
Of course Amanda would just consider it to be a lesson on trotting through water and mud! 🙂 Me not so much….I don't have a Baby Presto to do all the things with…ha ha.