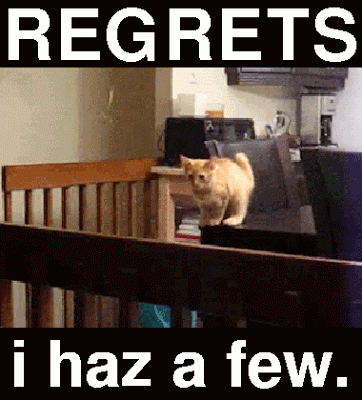 Fly sheets. I have had a few. And lately it seems I am on a constant search for the right kind. I am including all these below (the best of the best or the worst of the worst) to give you an idea of what worked, what didn't, and how much each one cost! Cause we all want to penny pinch when we can!
Per Remus who is very serious about fly control, fly sheets need to be light enough to be not sweat inducing and do the job of keeping flies off or at least deterring them.  They also need to be sturdy enough to stay in one piece (that is my requirement, Remus could care less). This is my own experience, no one is paying me for my reviews. I just wanted to share with you all so you can make a better choice than I might have once or twice! 🙂 In no particular order, here you go!
Pricing structure is $ = under 60, $$ 60-100, $$$ 100 and up
TuffRider Power Mesh with detachable neck $ (57 bucks now on SmartPak)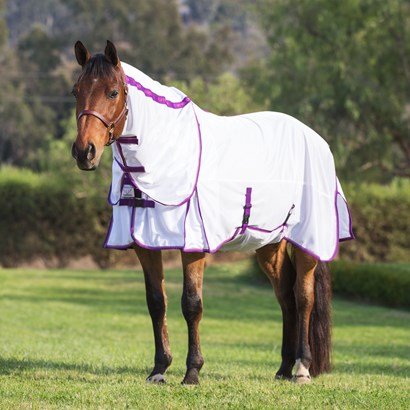 I know I have photos of Remus with this on but can't find them. I have this exact one that is cobbled together from being put thru the wringer (two years old or more) but still going. I also have this one (a new one) in glacier blue. The glacier blue literally lasted one week in May before being returned due to the neck connectors breaking. They sent me a new one but I haven't unwrapped it yet. I like this flysheet overall though there are a couple concerns. After the neck connectors broke on the old one, I ended up using double end clips on them. It works but not perfect.
Pros
Detachable neck
Priced in a lower bracket so easy on the wallet
Washes easily
Nice coverage
Belly band can be adjusted
Does a good job protecting from flies
Cons
Neck connectors and basic connectors are persnickity and could break (will break). The weight is heavy. But does not seem to cause sweating.
The halter tab at top is too short. The neck still stays up some though so not a deal killer.
Overall thoughts: I still like this fly sheet a lot. I just wish the connectors were better. The price could not be better  unless it was free!
SmartPak Summer Sheet (on clearance) $$ (63 bucks)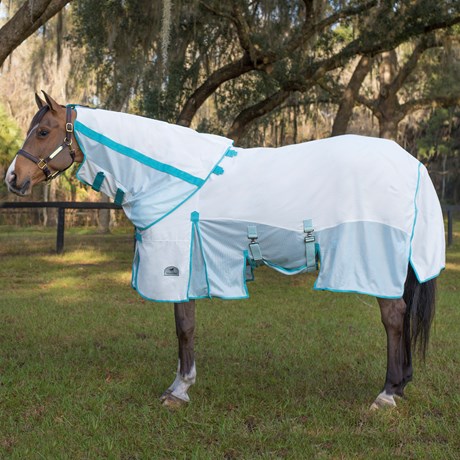 This one I wanted to love. But there is probably a reason this is on sale on clearance. The sheet was heavier than I liked with only mesh uon the bottom. The neck was obscenely short (size78 for Remus and the neck was only half way up his neck. And Remus's neck is NOT long, guys. Loved the connectors for the neck though and the traditonal belly buckles. Tail cover was decently long too. Wanted to love it but sent it back for a refund.
Pros
Priced in a lower bracket so easy on the wallet but not as low as the TuffRider
Love the connectors to the neck and belly band
Detachable neck
Nice coverage except for the neck (What the f)
Belly band can be adjusted nicely
Cons
Neck way too short
Material seems heavy enough to cause sweating (didn't keep it long enough to try it)
Overall thoughts: Good price but failed in sizing. Why would the neck be that short? It does not look that short in the stock photo?
Loveson Zebra Fly Rug (Stateline Tack) $ (45 bucks)
I didn't expect to like this at all. But not a bad flysheet for the price range! The neck is not quite long enough but covers almost up to the poll and stays up there pretty well. The belly band is a work in progress (velcro then buckles) and to be honest the first time I put it on Remus it literally was on backwards for 10 minutes. I could not figure it out. Each time I put it on him the learning curve is a bit shorter but I am still having trouble. Once it is on I like it. He mostly stays cool in it (it is a very light material so not sure how long it will last or how it would last in herd situations). The Zebra pattern doesn't cure all the fly issues but seems to help (horse flies are a different breed and the only thing to help would be teflon or poison fabric I think). But I like this sheet a lot.
Pros
Priced LOW
Permanantly attached neck makes the issue of the connectors go away
Belly band can be adjusted nicely tho learning curve for fasteners
Cons
Neck still a bit short
Material is so light I worry about longevity but at least it is cool
Not sure how I like my horse looking like a Zebra in the field
Overall thoughts: Not a bad fly sheet. Would totally get another one. Again longevity, who knows? Price is excellent!
Amigo Evolution Fly Sheet $$$ (125 bucks) Bought from small business Two Old Mares Blanket Services
This one is pricier than I normally pay (but it was cheaper than elsewhere due to buying it from a small business owner who sells Horseware products instead of SmartPak, etc.)  I love this company, they also take care of my blanket cleaning needs even though I moved 900 miles away. You can google them or facebook them if you want to see what they carry but I 100 percent recommend them as sellers. Fast, FREE ship, excellent prices!! Two Old Mares Blanket Services
I have only had this one about a week but so far I do love it. I love Amigo products (most of Remus's winter blankets are Amigo made). I am not sure on the color and if it really helps but hell I am willing to try. Remus seems to love this sheet and even though it is a heavier feeling he does not sweat (or seems to not sweat much under it).
The neck is attached, the cut is long on purpose. The tail flap is long. But it fits Remus well. No shifting even when he rolls (which he does a lot of). Belly coverage is excellent. Neck coverage is pretty damn good too.
Pros
Permently attached neck makes the issue of the connectors go away
Belly band can be adjusted nicely, it has velcro then the belly surcingles
The color seems to deter flies a bit.
Cons
Pricier than the rest (you get what you pay for?)
Overall thoughts: Excellent so far. It passed the roll test already. Will see how long it lasts, I hope it lasts longer than the cheaper fly sheets but I do like it so far. Remus even ventured out on a hot day with flies the other day. Unheard of in other sheets.
There you go! I have a few other fly sheets that I tried but they either weren't worth a review or are so old they aren't really sold anymore. If anyone has any questions on these let me know! Hope it helps people make a decision.