The $900 Facebook Pony and May As Well Event (and lots of others since) started a 30 Things About Me blog hop. And who am I not to follow? This took me forever to finish and I am tired of tweaking it by now. So here we go! If I bore you to snores, or offend you, I apologize in advance!
I started riding at 10. That means I have now been riding for 41 plus years? Wow! I stopped a few years between college and my thirties but here I am back at it!
I have been at the same gym for over seven years! I enjoy the people there (both staff and some of the members are my closest friends now!) and I do kickboxing, personal training, and team classes there.  I do love to pound and kick the shit out of a bag. If you have not tried it, put it on your list! I also have an awesome trainer at this gym who is not afraid to dress up and be goofy (see above)!
I am the youngest of three in my family. My sister is 10 years to the day older than me. My brother is seven years older. It was like being an only child. It was awesome (except for family vacations, see below)
My sister and brother dangled me over an alligator pit in Florida during family vacation one year. My mom caught them. They could not walk very well for a couple days! (Spoiler: I didn't get dropped!)
My sister, my dad, and my husband have the same birthday as me. I hated growing up sharing birthdays and still hate it! Stresses me out every year.
I lived with a close friend on a Tyson Chicken Farm for a few years and raised chickens with her. I didn't eat chicken for a very long time after I moved out.
My first serious boyfriend died in a car wreck while driving my car (I was not in the car thank goodness or I would have died too I am sure). Sucked big time and I still really don't talk about it.
I am a fast reader and can retain things after just seeing them on the page.  If it was written down I can remember it, if read to me, I can't. Hence why I have to see jump courses and dressage tests on paper. #oldschool
I didn't drink coffee till a few years ago. I also didn't like wine either. Times change, now they are two of my fave beverages! #slowstarter
My husband is British. We actually met online in the late 90s then he came over to work in Delaware and we met in person. Rest is history 🙂 We have been married for almost 16 years. He now has dual citizenship but I green carded him so he owes me for life HA!
We lived in Texas for five years. We have lived in Delaware the rest of the time Mark and I have been together.
I have a scar on my back that took 17 stitches to stitch up in Texas on Father's Day, 2005. My husband and his friends (who may or may not have been drinking, cough cough) wanted to just put a bit of Neosporin on it and keep on drinking but I made them go with me to the hospital (so gross that wound LOL!!). One horse made mean eyes at another horse I was grooming and said horse pulled me through a wire mesh in a stall door. #frankensteinnow
We had a lot of pets growing up (must explain why I am so animal crazy). Along with dogs and cats and banty chickens, we had Terry the Tarantula and Alice the Skunk. Oh and Amos and Andy the goats. Along with wild snakes that lived in the house at times with us (shudder, they were not my pets!).
My BA is in Communication Arts (only degree in the 80's you could get and not take Math, this is why I chose it!). I hate Math with a vengeance. 🙂
I have worked in educational publishing/educational conferences since 1998. (Mostly at the same place except for when I was in TX though I was in educational publishing there too but at a different place). I also freelanced for a while in Texas. #gluttonforpunishment
I have no tattoos and have no interest in getting any.
I always wanted to write as a kid and young adult and never did. Now that I started my blog I don't want to ever stop!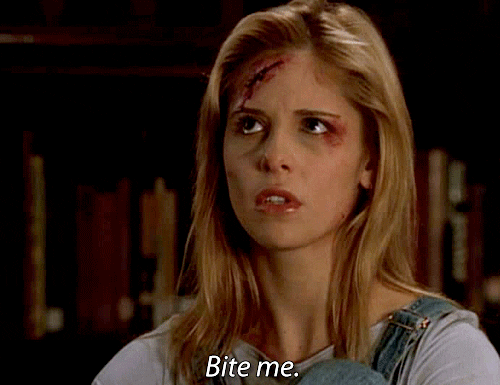 My favorite show ever was Buffy. I hardly watch TV now except to watch reruns for Seinfeld and Friends and Frasier and to stream stuff and/or watch PBS. I love British shows such as Midsomer, Grantchester, Inspector Lewis, Morse you name it. I am not as much into Britcoms though my husband likes them (of course!).
I love Harry Potter books and enjoy Harry Potter movies. I think we need to start a chat so we can all discuss. #harrypotternerdsunite (Seriously we need to form a club!)
I am afraid of heights. The one time I went up the Washington Monument in college, I literally got off the elevator and sat down on the floor by it until the people I was with were done. I get that the views are gorgeous but I want to throw up and fall over in that order when I get up too high.
I love all things purple (WAIT, most of you know that by now). I do not like the color red. At all. I have no red clothes and Remus doesn't either!
I have owned Morgans, Paints, and Quarter Horses. I have never owned a Thoroughbred or any other breed. I would love to have a Haflinger or a Connemara cross one day but for now will stick with my fat buckskin!
I love tropical fish! I have three fish aquariums in my house. I have seven fish and three nerite snails. I think I need to restock. LOL
I grew up less than 20 minutes from Assateague and Chincoteague. I worked for the vet that took care of the Chincoteague ponies and helped with their veterinary care for a few years. That was really a neat way to make money in my younger years!
I traveled the Appalachian Trail for a week with a friend in the late 90s. We did about a 100 miles in a week, camping the whole time, I blew my knee out going down hill on this huge ass mountain about halfway thru and my friend who was a vet student wrapped it in duck tape till we made it back to civilization. It was a great time but don't know if I could do it now at my age. It was pretty brutal the ground we covered though we met some neat people and really had a great time. One night our tent was attacked by a deer, I kid you not! Those things can be mean!
I had short hair in high school and college, then long hair down to my butt for years until in my mid 30's I cut it off again. I have had short hair since. Much easier to deal with!
My real name is Lisa (but my middle name is Michele) my family has always called me Michele except for school and the DMV and other useless places. Oh and I was called Billy in college (long story)!
My grandfather (mom's side) was an admiral in the Navy in World War II. He commanded several submarines (how cool is this)? He lived with us (with my grandmother who I was not as fond of) when I was in my teens. I wish I had asked him more back then now I am interested in history it is too late.
We won tickets to Antique Roadshow a couple years ago and my dad, my sister, and me attended, it was a blast. My dad got on TV (VA Beach episodes from 2 years ago)!
I have only been out of the USA twice. Once to England in 2002 and once to Portugal in 2013. I probably should travel more. I would like to live in the Southern Eastern United States some day (SC or NC or anywhere near there). I would also move back to Texas in a New York minute.