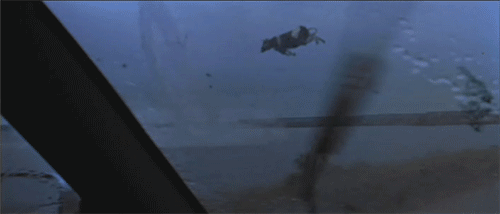 Whew that was a LOT OF wind from Friday onward (and snow and more rain and snow again). We had major damage to a neighbor's tree that ended up not only taking our power out but also blocking our driveway and causing general upheaval on Friday night. (Can we get through a weekend ever again without losing power and/or internet?? Two for two so far.)
We had snow most of the day on Friday. But sideways snow due to wind. Which is odd looking and hard to take a photo of (I tried). I had worked from home on Friday so my truck had literally sat in the same spot this tree fell on all day but as the wind grew stronger all day I went and moved it inside the gate and then Mark moved his car up to the gate when he got home. Not sure if it was a premonition or what but we often park under the trees. That night we did not.
When I went upstairs the wind was hitting the side of the house with such power it was shaking. Crazy ass winds. We have a cape cod and you are up in the dormer and hear everything. It was like being on a ship on the ocean minus the rocking. But we still had power.
I was watching Netflix on my iPad to drown out the wind with the headphones, and about 930 Mark came up. We both had our headphones on (I had switched to Audible by then) and nothing flickered or made any noise with the headphones on but i saw the phone in the corner light up when the power died, and I looked around and saw the clock was out. Ut-oh. No flashlight upstairs, thank goodness for iPhones! I ran downstairs to get a flashlight and then came back up. We never heard the tree crack but it was a big one and two sets of neighbors told us the next day they heard it.
So it was dark. We looked out the window and it looked to me like a big branch had fallen across our driveway and on the power lines. In like ten minutes, the trucks started pulling up and working hard. It was LOUD and Ollie did not like all the noise (CB radios blaring, men shouting, two trucks with flashing lights). Mark and Gretchen proceeded to fall back asleep but Ollie and me listened to every chainsaw. About a hour and half in I realized maybe there was more than a branch down (That chainsaw was NONSTOP).
They finally cleared out about 1130/midnight and about fifteen minutes later the phone flashed and we were back in business with power. Kudos to our city. They did this right. The neighborhood behind us lost power on Friday during the day and I am not sure it is back up yet (Delmarva Power provides them with electricity and their ET of power being back on was today sometime. YOWZA!
The next morning dawned cold and windy but we ventured out to let the dogs out and take a look at the damage. Um. There is a lot of tree on the ground. Luckily the city cleared our driveway and piled it on each side. So we could get out at least.
I started arranging quotes on Sat for removal of this crap. The first quote was over 600 bucks (I think Mark might have fainted a bit at that). It is our neighbor's tree but he rents that place out so we kind of figured it was on us. We haven't even seen the owner of this house in over a year.
But this is when things get good. I have another quote on Monday but…the tenants of the rental came over last night and told us not to worry about it, they were going to take care of it all. What? HUH? Are you crazy? They are young, strong cops who live next door and they have all the equipment. I offered to pay them. They refused. I think I will get them some wine and a gift card so they can go out or something if they end up cleaning up. Because that takes neighborly to a whole OTHER LEVEL!!  What nice kids! Restored my faith a bit in the world.

Then as I am typing this blog Mondays am, Asplundi shows up and some guy is supposed to be chipping most of the branches as we speak (but then he left so who knows!!). I am not sure if he will come back or not or take the big logs but at least the city is cleaning up some of the mess (I hope). What a weekend.
We were supposed to see a farm up in Coatesville this weekend, I did a drive by on Friday in the snow storm/ nor'easter (yes i am an idiot) and it was very cute, bit pricey but cute. Then our showing got cancelled, we went by there on Saturday and it is a mess up there, the lines are down, trees are down, no power, and no showings till next weekend or so. So this makes Mark think he doesn't want to be out in the country. I swear my life is a damn boomerang. You never know where we will end up! HA!
I have a lesson with Emily tomorrow so not sure I will have media but at least it will be more horse focused for this blog! How did you all fair in the storm (Those people in my general area and beyond)? I know Emma's barn lost power and had some tree damage and Sarah lost power on Friday but she was at work being Dr. Seuss! Anyone else? Our barn was out of power on Friday for about 15 hours but no real damage. Crazy crazy March already and it is only the 5th!! I didn't do a darn thing with Remus, when I went out Friday to grab my stuff I sold, I didn't even go out to see Remus the snow was so bad at that time and the wind was disgusting. All weekend the wind was howling, the ground is saturated so I am awfully glad I set up a lesson with Emily so we can use the indoor. Gotta try out this boot camp work before it disappears. Ha.