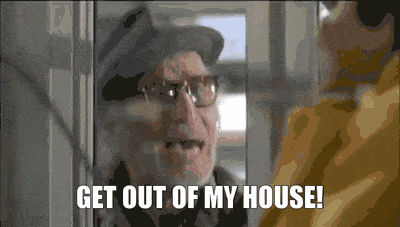 The good news is I have a lesson with Emily today, Monday.  Horsey stuff yes!! The bad news is that the weekend I just had was so stressful it is a wonder I didn't just fall into a fetal ball and start weeping. Or yell for people to get out of my house. Or both. (Maybe I did a bit).
It is never easy to move. I have done it many times but boy was I younger then. Now I feel like just one big ball of stress per day and it doesn't help that this town has gotten so much busier lately (road work everywhere, college kids are almost done the semester, the weather is finally decent and so on) so nothing is easy. Everywhere takes more time to drive due to the endless line of traffic. Add in a house that was built about 70-80 years ago and crappy wiring etc. done by the previous owner and yeah you got it. I be crazy. Getting the repairs down at the house while being busy at work and being sole provider for the animals in my house. Yeah I have crazy eyes about now.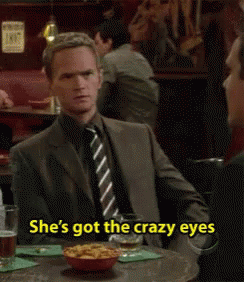 Friday I took the dogs to daycare and waited for the handyman to text me that he was at my house. No text. So I texted him and he said oh he was waiting for you to let me know when the house was free. Ummm no I told you I would go to work at noon and take dogs (He couldn't get there early on Friday he had told me). I finally leave work at 4 and go creepy crawly across town to get my dogs then creepy crawly back and….no handyman. He hadn't been there all day. SO I just threw 37 bucks out the window with daycare. My dogs COULD have stayed home. On their couch where they are comfiest….
The handyman shows up with an electrician friend about 530 pm Friday night and they look at a switch or two and then they leave. He had never had any intention of working at my house. I think our wires got crossed (ha get it a pun). Honestly, he is Polish with a strong accent and it was probably a language barrier more than anything..UGH…
But then he says he will be at my house on Saturday. Wait, the weekend?? Really? Because I was kind of looking forward to having my house back. Um yeah.  But at least th dogs were fine with him as long as I was there so I didn't have to take them to daycare, AGAIN.
But Sat dawned cooler than the forecast (don't worry it caught up heat wise just not as hot in the early part of the day than it was going to be) and I  had errands to run. So the dogs went with me while they were working on my deck. Dogs love to ride so no big deal. We were out about 2 hours and when we came back they were done the deck (except for the painting that may never happen till June the way our forecast shows rain EVERY day for the next week) but they were inside working on our kitchen fan.
The previous owners had a HUGE ass fan in that tiny galley kitchen. I truly wish I had done a before and after photo, the new fan makes the kitchen seem that much bigger. Rad was determined to fix it (The fan worked fine the lights didn't work and yes I tried new light bulbs). He worked on it for 3 days straight and then Saturday he decided to put in the new one that I had bought at Lowe's on Friday that was so much better-sized than the monstrosity the previous owners had in there. And it was not expensive. Easy fix right?
BUT wait, dear readers. When I came back with my dogs  I came in the house and Lester (his helper who speaks very little English) was trying to put the fan up. And Rad had gone to the store. So dogs and I came in and we went into the office and I got online and Lester turned the power off….and I was sitting with no internet, it was hot as hell in there and I was bored. I started texting Sarah to fuss about it all (Sorry Sarah).
Meanwhile, have you ever heard Polish cussing? I am pretty sure that was what was going on in my kitchen. He must have taken the fan down three times then put it back up. Meanwhile Ollie would not settle he wanted out. So I let him in the back  yard and came back into the office with Gretchen.
And about 15 minutes went by and I went to check on Ollie. And he was not to be found. Little shit had gotten out (he can fit thru the deck railings  since we had plastic netting on it for my dad's Chihuahua, and they have removed it while redoing the deck, I never knew OLLIE could get thru it).
So Ollie was gone (He got out the other night too but was not so far away, this time he was GONE NO OLLIE). It was hot as eff out and I almost started hyperventilating. Shouting his name (Our new neighbors must think we are crazy they were working on the house next door and I am running around in circles. No Ollie). I seriously thought someone had picked him up but I didn't think he would get in a car with just anyone. I got into my truck to go drive and look for him (we live near a very busy road and I was just so sure he had gone that way). I texted Mark before backing the truck out and I see the monster trotting back to me from the other way down the road, coming home. I admit I was crying by then. The little shit would not go back in the house, my truck was parked under a tree so put the windows down and threw him into the truck.
Then Rad got back with the supplies and he went in to help Lester with the fan. MORE POLISH CUSSING. They FINALLY got it working. I brought Ollie back in once they   were done the fan (I think the drilling was bothering him why he didn't want to be in there) and he collapsed on the wood floor by the kitchen door to stare balefully at Lester as he finished putting the bulbs in the fan. (Lester not Ollie, Ollie has no thumbs)! HA
They left around 3 and I had my house back to myself. I literally was up in bed on Saturday by 730 and then a whale of a storm rolled in and I was like you gotta be kidding me, luckily it did not last long and I slept until 6-ish got up fed dogs let them out and we all went back to bed till 8.
Meanwhile on the house in TN front, the people who own the house are a bit odd. But hopefully all goes smoothly. Mark and I are constantly waiting for something to not go smoothly.
Sunday was rainy and gloomy. I didn't even go out to Remus and just will see him today  and haul him to Emily's. Ran errands all Sunday in the downpour. UGH. What a crazy ass weekend. I hope everyone else's was quieter and/or more fun!