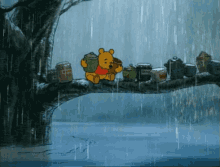 After a whirlwind trip to Columbus, OH for work earlier this week (UGH 7 hours to get somewhere by plane that I could have possibly driven the same amount of time and got there, hate air travel), I am back home but it has done nothing but rain since I got home this week.
And when I say rain, I mean buckets, loads, tons of it. Along with wind, lightning, thunder, even a dash of hail the other evening. Everything is under water again. Mud is everywhere. My barn is the same as it was when Tate left as the weather has been so horrible and the paddock is under water. So I am at a status quo on cleaning up the paddock and cleaning the barn. I hope this weekend we get some decent weather to work outside BUT the sponge-like ground is not conductive to clean up and draining the wetness out of the paddock.  I just can't believe the amount of rain.
So not much is being done at the homestead this week. I have dental stuff scheduled this am so hope I feel good enough to do something this weekend. We shall see. Also, Columbus was a really cool city and I would not mind going back there for fun not work. Prices were very reasonable, it was a very clean (and safe) city to wander in most areas and it was a city but didn't seem like a city if that makes sense. Seemed more like a city you see on television! HA
Remus is still chilling in KY going on trail rides, having some kids ride him, getting worked, and just paying no attention that he has another home. I hope to see him next weekend if I get to NotRolex which is my plan right now. I am totally winging this trip so we will see if it happens or not. 
So who has horse plans this weekend? Where you going? What you doing. Let me LIVE through you. I know River Glen is this weekend. I wish I hadn't just gone away or I would drive up to cheer ET on there. Who else is showing this weekend?