The flies are upon us big time. I am not sure what else I can do to keep them off us and Remus. Our fly spray system is down in the barn (we are working on it but need to order parts). The regular flies themselves are bad but not that bad probably because of the fly predators. But the mayflies are drawing blood on Remus's head. The horse flies are getting under his flysheet or on top and drawing blood. Two of the horse fly shits bit me this weekend on my back so I have two red angry welts on my back that are killing me. The fly predators of course do nothing for the onslaught of horse and mayflies.
Yesterday Remus got his mask off and when I brought him in in the afternoon to cool him off (Fly sheets are great and do help but he sweats so much under them when it is hot) he had blood running from his ears to his nose. Not a pretty look. Then he got annoyed with me for trying to clean him up.
Any other suggestions? I have to keep the doors shut on the barn up front due to the heat of the sun coming in the afternoon and to keep the flies out at least a bit. The heat and intensity of the sun on the barn front in the afternoon is a bit crazy. He also has to have a fly sheet on to be outside except first thing in the morning (from like 530 am to 8 am or so). I am hosing the fly sheets off nightly so I can reuse them each day. I will need to wash them again soon (I have three I am using, surely I won't end up having one a day for him like days of the week underpants? HA)
And this is just MAY! God knows what it will be like in July/August. I have fans in the barn but do not like to run them at night which means there is no help for the flies (And yes while better at night the flies still are there, last night I had a drag out fight with a bomber fly in Remus's stall and I was not going back indoors till I killed the sucker).  I did and then stomped him for good measure. HA
I feel for Remus he has so many swellings on his body from these flies.  He wasn't here in May last year so maybe this is normal but they say this is a warmer (and drier) May than usual.  I am going to get some shade cloth to hang from the barn doors so I can at least leave them open some. And I want to get some reflective window film for the windows on the barn (they had some on there and I didnt realize why they had it on there, now I know). The old stuff was peeling so I took it off.  I have ordered some of those Ranch Fly Traps to try. I am ready to sell my soul to a voodoo goddess to get some relief for us! HA!
And my horse is nuts. Still. He is pretty laid back on his own with no other horses but some things will set him off.  The other evening when I put him out in the front field our neighbor down the street was dragging some branches from her yard to the back. Remus. Lost. His. Shit. (He also looks like a space alien in the getup he has on!).
And then he lets me do stuff like this. SO maybe he is just slightly nuts?
How was everyone's long weekend (those that had long weekends)? Hope everyone had a great weekend.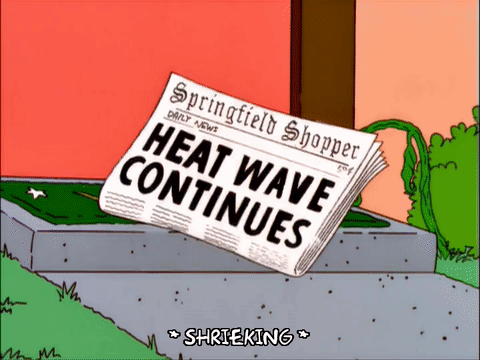 And our air conditioner. Broke. Again. Yeah. My horse may be cooler than I am at this moment. SMH. The service people will be here tomorrow (Yes more than 36 hours from now! And this is the SIXTH time to our house since May 3rd) If you are counting that is 25 days. Last night me and two of the dogs went out in the living room and slept on the couch. I could not breathe in the bedroom. Fun times. Not.
Stay cool my friends.