It has turned definitely fall-like this week, and today was only in mid'40s! Yesterday I found Tina in my dresser drawer (How she got in there with the tiny opening I have no idea but now they all three meander around waiting for a chance to jump in and get warm!
Bernie got groomed finally this week and is pretty much naked so is wearing two outfits now to stay warm! LOL she seems to be giving me side eye in the bottom photo as in where is my hair?? But she was getting matted so they had to cut her short. Anyone else in different regions finding it hard to a) find a groomer and b) get an appointment? Just me? UGH
I had a lesson on Sunday with Remus who was a pretty good boy. We did some short course work and even managed to canter over a few poles on the ground without falling on our face. The weather while chillier has been glorious for riding (Except on Sat where it was quite chilly and they had the barn Halloween show! I did not ride and was glad I didnt, it was COLD!).
Otherwise it is kind of quiet with work being pretty busy and not much else going on. I get to take care of my neighbor's chickens again this week and am glad as it means I can stockpile eggs for a few days.
Also I need to get new photos of the minis as they are getting wooly and resemble Thelwells more than Miniature horses at this point!! They know winter is coming! Luna is also getting woolier but she does not look like a Thelwell! Thank goodness for small favors. She could stop growing so fast though that would be great!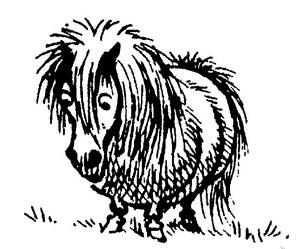 Happy Tuesday (almost Wednesday!). Anything exciting going on with you guys? I am pretty dull and boring lately so may need some livening up! 🙂 Enable me to enjoy your life instead!